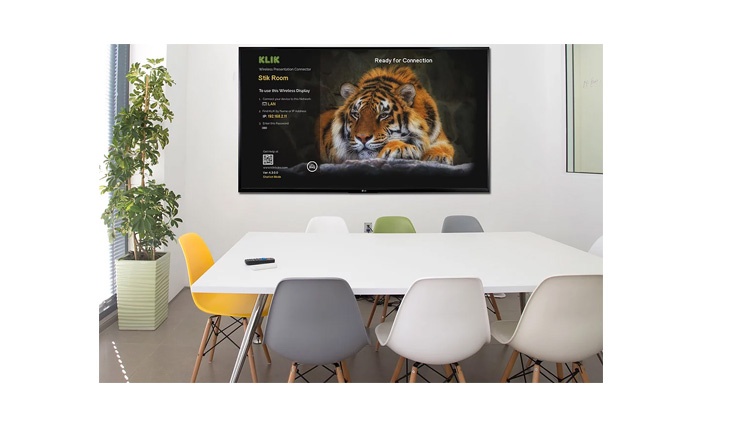 Wireless Presentation System
:

KLIK STIK turns any TV, Display or Projector into a Wireless Presentation screen, in as little as 2 minutes. Fully automated installation, Customizable Wallpaper, USB Power, STIK is the smallest, easiest, and most affordable professional screen sharing device in the World!
Stream content from any device.
KLIK STIK boosts meeting productivity by allowing users to stream from their device, instantly. Computers, tablets and smartphones can connect natively, even without installing an app.
KLIK STIK works with Windows, Mac, iOS, Android and Chrome OS.
KLIK Wizard Automated Setup
Get started in as little as 2 minutes, with the KLIK Wizard setup utility!
​Plug the STIK into your display and you'll be up and running in no time. Fully automated discovery, network connectivity and option selection, means KLIK STIK can be self-installed, adding wireless screen sharing capability to any classroom, meeting room or anywhere people meet and share content.
Drag & Drop Custom Wallpapers
Branding and aesthetics on your terms!
Choose what you want to see on the screen while the KLIK STIK isn't being used, with a custom wallpaper. No editing skills required, simply grab any image and the Wizard does the rest. Changing wallpapers is so easy, you could have one for each day of the week.
How it Works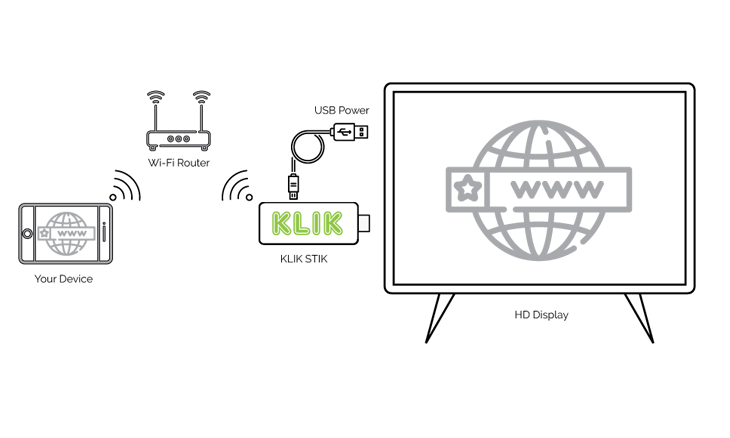 Some of our Customer Stories..
Klik Stik
Love it! Simple to use and set up.
Simple to set up and simple to use. Great to use with WIFI. Remote is light weight and simple. Easily disconnect and connect. Can be used on different televisions with HDMI. Great for kid's room and spare television.
Klik Stik
The Klik Stick for Streaming is amazing!!
I love the Klik Stick. Affordable and does everything it is advertised to do. Has many features and I love the fact that I get emails showing hints and additional things this little item does. It is effortless to use. Also, you can take it with you!
Klik Stik
Good product and useful
It's a great product. Very easy to use, plug in iphone,ipad or USB device to play in the TV. I really like it, because i can present documents on a bigger screen now with easy setup.
Need Pricing faster? Fill out the simple form and our executive will get back to you.