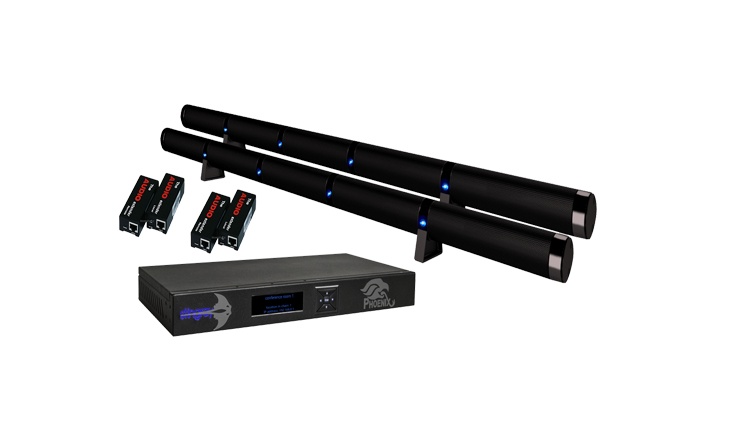 Condor Expansion Kit
:

The Condor Expansion kit enables increased coverage by providing two wall-mountable Condor beamforming microphone arrays and a Stingray DSP mixer. This expansion kit is perfect for large collaboration spaces of all shapes and sizes. A DSP with no programming required, paired with two microphone arrays, allows you the flexibility to place them anywhere in the room to capture high-quality audio.
At a Glance Specifications

Connectivity
USB
Analog
SIP (IP Phone)
Speaker Input:
Four amplified outputs: 15 Watt into 8Ω each
System Output:
USB or Analog
Analog:
Line level: 2V ptp
Balanced
Inputs:
Four Mic Level inputs:
– Balanced
– 48V Phantom via a 5.6KΩ resistor
– Gain: 14dB to 42dB in steps of 4 dB
– Separate mute request input: 10KΩ pull-up resistor and should be short to GND to mute
*The Stingray can receive the mute request from any of the microphones and will mute the entire room.
Four Line Level Inputs:
– Balanced
– No Phantom
– Input level: 2V ptp
– Input Impedance: 20KΩ
Speaker Input
o USB or analog
o Analog: line level 2V ptp
o Input impedance: 20KΩ
Some of our Customer Stories...
Condor Microphone Array
It turns every inch of our 22 x 12 conference room into a giant speakerphone. You can stand in the far corner and talk very quietly, and the caller on the other end hears it clearly.
The Condor MT600 is a solid, reliable piece that performs well in most environments! Best part is the plug and play ability, that's ready out of the box.
Finally, a DSP that packs the quality, ease of setup, and price that we can deploy effortlessly.