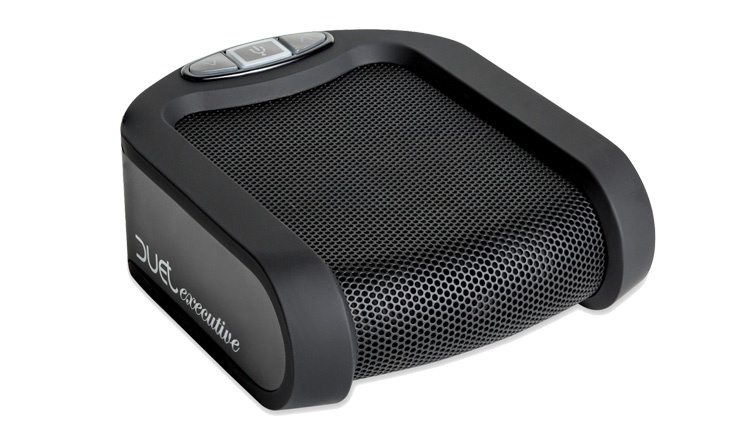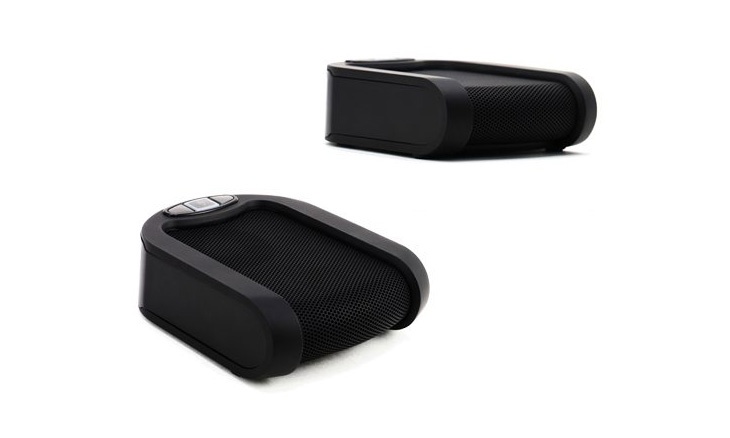 Duet Executive (MT202-EXE)
:

The Duet Executive is a table-top personal speakerphone designed for video conferencing via it's USB connection. It also supports a "smart" analog connection allowing it to be used as a plug-in device for smartphones and tablets. It's size and durability makes it portable and perfect for travel. The Duet Executive is the perfect device for personal use or home office.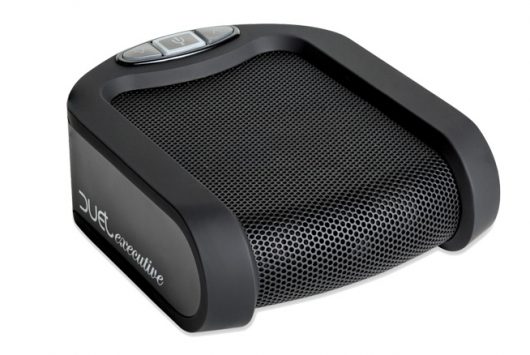 Connectivity:
USB
Analog – 2.5 mm and 3.5 mm connection
Inputs:
USB to your computer – this connection is for any session using your computer, such as Voice Over IP applications (Skype, Vidyo, etc.).
2.5mm cable to your smart phone – this connection is for any session using a smart phone or tablet.
Performance:
Speech processing and echo suppression at 32KHz sampling rate
HD speaker audio (16KHz bandwidth)
Maintains audio performance of the PC for HiFi audio applications when external speakers are connected.
Plugging in a headset will automatically turn off the speakerphone.
Controls On The Device:
Power
USB power for PC and Laptop (LED will illuminate)
External power supply included for phone only configurations (when Duet is not plugged into the PC)
Audio
100% Full duplex performance – no attenuation (either way) during full duplex
Acoustic echo cancellation >40 dB
High-end performance: conforms to ITU-T G.167 standard
Line echo cancellation
Noise cancellation >10dB
Residual echo is suppressed to the environment noise level to prevent artificial ducking of signal
Voice level equalization
Convergence speed 40 dB/sec
Tail length (200ms)
Convergence during full duplex (no recovery time after full duplex)
Low delay (10 msec)
Bandwidth 20Hz – 16kHz for speech processing maintains the soundcard bandwidth
Integrated loudspeaker
Omnidirectional microphone pickup pattern 360°. Equal output or sensitivity at all angles.
Integrated loudspeaker
Mute button and loudspeaker volume control buttons (LED will blink in mute mode)
Four position gain setting for optimum adjustment of signal level into the telephone
Some of our Customer Stories...
Duet EXE (MT202)
A Very Flexible Speakerphone
I needed a phone set up for a church related "WebEx" Internet meeting. The meeting was in a larger room with about 60 people. THe MT202 worked well to pick up the people speaking in the room even though they may have been up to 20 feet from the MT202. The unit has a ton of features and the several that we tried for this meeting worked very well. As indicated by the above, the MT202 will work well even in a larger conference room setting.
Duet EXE (MT202)
Good sound, versatile
The Duet series was recommended by the sysadmin at work for internet teleconferences because it had good sound and worked well with both WIndows and Mac. The sound and echo-cancellation is excellent. If you plug it into a computer it will draw power from the USB.
Duet EXE (MT202)
Duo + IP phone calls (computer) - Love it
I spend 1/2 of my work day on conference calls hosted on a corporate IP telephony system from hom. I used to use a wired headset through the headphone and mic jacks. This connected in easily via USB and auto-recognized, taking over the speaker and microphone functions.
Need Pricing faster ? Fill out simple form and our executive will get back to you.